Sharing knowledge and history to encourage the next generation of engineers.
Our main goal is to share our knowledge and history and to "pique the interest of young people in science and technology and to challenge them to become the technologists of the next decade".
We are available for educational events which include tours of the museum, stories explaining various technologies and their relevance and impact, and hands-on demonstrations.  Oscilloscopes were and still are "eyes" for exploring anything that can be represented as an electronic signal.  The cathode ray tube evolved to add storage capabilities, increase in size, and expanding beyond Test & Measurement into computer graphics.  The museum has specific exhibits for hands-on demonstrations including:
Sound:  Use a microphone to visualize sound.  Use a keyboard and synthesizer to look at the waveshapes of various instruments.
Time Domain Reflectometer:  Use a TDR to measure the speed of a pulse down a cable going 67% the speed of light at 124,827 miles/second.  Find defects by measuring reflections to determine the distance to the defect accurate up to 1/2 inch.
Electronic Spectrum:  Look at the frequency spectrum of what signals are in the air around us.  Look at the broadcast frequencies of FM stations in Portland.
Light Spectrum:  Look at the characteristics of various colors of light.  Look at the spectrum which makes up those colors.
Video:  See what makes up analog television signals.  Use a video camera to capture images, even yourself, and look at the resulting waveform.
Computers:  Play early computer graphics games including artillery.  It requires and teaches principles of angles and velocity and is fun and challenging too!
This photo of a STEM group of young robotics students is during a session about wave shapes, their sound, and visualization with an oscilloscope and with lasers, and some fun time with a theremin.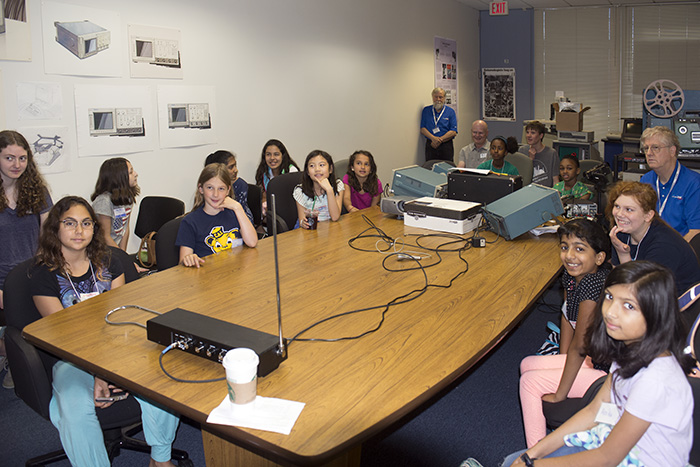 This group of 8 - 11 year old learned hands-on about the evolution of electronics technology over the last 70 years.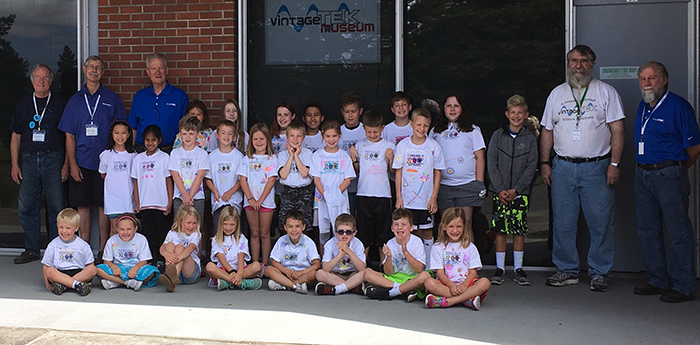 Volunteer Pat Green (left) educates some youngsters on the evolution of display technology while volunteer Bruce Baur (below) educates another group of youngsters on the evolution of computing technology.