The vintageTEK annual meeting is scheduled for Thursday, February 22, 2018 at 5:00pm at the museum.
Due to the weather, the meeting has been postponed.  A new date is TBD.
---
Become a museum associate!  Sign up on our registration page and receive monthly email newsletters from the museum.  These newsletters are only sent once per month and contain photos and information on what is happening at your museum.  The newsletters are very similar to the monthly blog.  Click here to view the January blog.
---
Be sure to visit the museum on the web or in person.  We continue to enhance the web page with many new resources, exhibits, films and videos.  Some of the most recent pages added in the last month include:
---
The floor plan below shows the exhibit layout and there is a photo tour of the museum in the exhibits tab.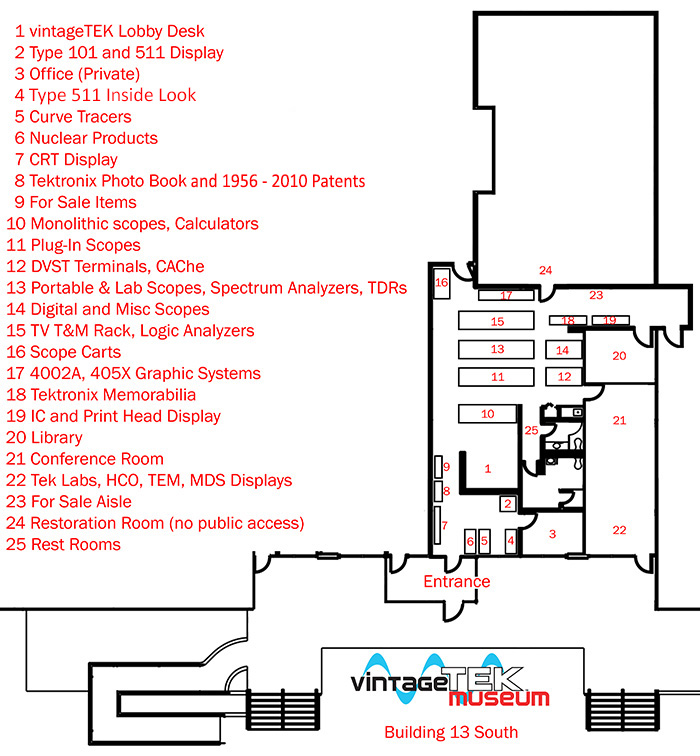 ---
Celebrating Tektronix Legacy Products
and
The People Who Made Them Successful
vintageTEK is a charitable, educational and scientific museum founded to commemorate the early history of Tektronix, Inc and its role in spawning approximately 300 high technology companies in the 'Silicon Forest' - i.e. the four county, two state metropolitan area of Portland, Oregon. Our main goal is to share our knowledge and history and to "pique the interest of young people in science and technology and to challenge them to become the technologists of the next decade".