2017 Northwest Electronics Design and Manufacturing Expo Booth
The vintageTEK museum finished up its 5th year of displaying a booth at the Northwest Electronics Design and Manufacturing Expo, formerly known as the Octoberbest Show.  We always have a lot of fun at this show and meet a number of old acquaintances and new friends.  This year we mixed things up a bit with a different display in our booth.
A laptop running a continuous set of videos from the museum Video Gallery
A collection of early catalogs and printed materials
A display of CRTs including a prototype of the liquid crystal light valve
A J20 / 7J20 plug-in optical spectrometer with a color changing LED bulb
A 454 displaying the Tek Bug/Wizard in XY mode
A 524AD television oscilloscope
A Sony/Tek 323 and Tek 1401 spectrum analyzer displaying local FM radio stations
A 5CT1N plug-in curve tracer in a 5111A storage mainframe
A 7104 mainframe oscilloscope with a micro channel plate CRT along with a cut-away CRT showing the micro channel plate
Staffing the booth (left to right) were Bob Haas, museum chairman, Tom Goodapple, former Rogers Organ employee, Bruce Baur, museum board member, and Dave Brown, also a museum board member.  Bob, Bruce and Dave have a combined total of 74 years experience at Tektronix.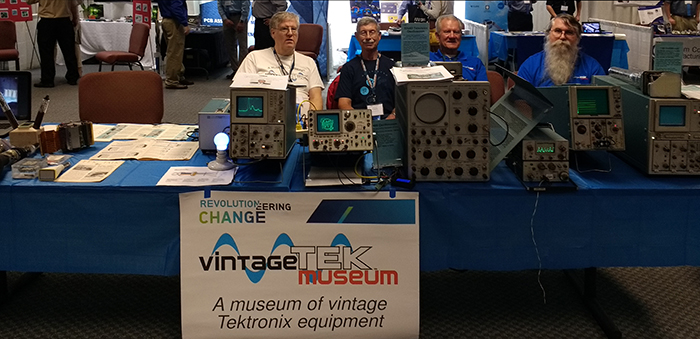 ---
Visit the museum on the web or in person.  We have added many new resources, exhibits, films and videos.  The floor plan below shows the exhibit layout and there is a photo tour of the museum in the exhibits tab.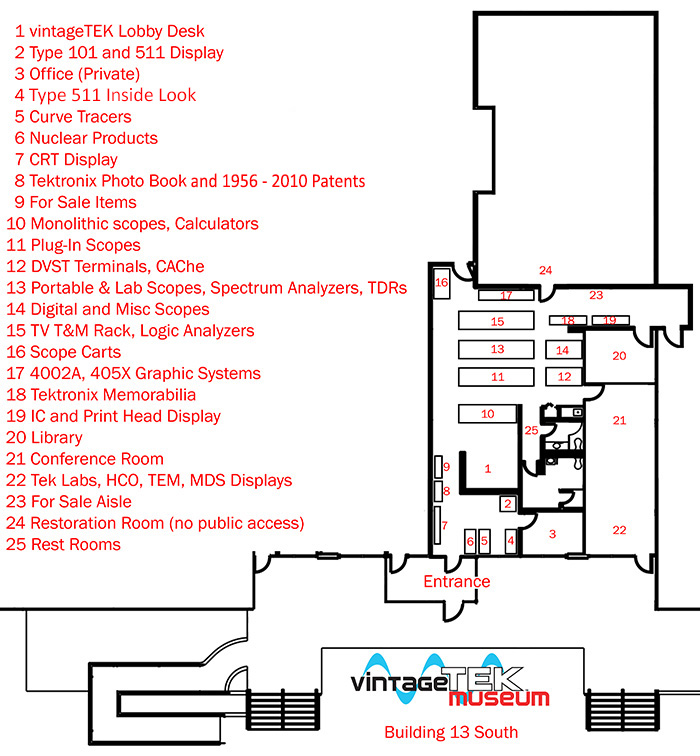 ---
Celebrating Tektronix Legacy Products
and
The People Who Made Them Successful
vintageTEK is a charitable, educational and scientific museum founded to commemorate the early history of Tektronix, Inc and its role in spawning approximately 300 high technology companies in the 'Silicon Forest' - i.e. the four county, two state metropolitan area of Portland, Oregon. Our main goal is to share our knowledge and history and to "pique the interest of young people in science and technology and to challenge them to become the technologists of the next decade".