The vintageTEK museum has a large collection of printed instrument Instruction and Service manuals.  We keep an archive for the museum and sell excess manuals on our eBay store.  Please check our eBay store for your manual needs.  Proceeds help support operation of the museum.
The museum also has an extensive microfiche collection of Instruction and Service manuals along with other documents.  We estimate the number of pages, including duplicates, at over 3.9 million.  Our fund raiser for a microfiche scanner was successful and we can now scan microfiche to PDF documents.  Due to the size of the microfiche archive we will not be proactively scanning Instruction and Service manuals but will respond to requests.  We are currently in the process of developing an index of instruments in our microfiche archive.
Scanning microfiche is a time consuming task for our volunteers. Each page has to be manually positioned, cropped, and scanned. We will research and scan microfiche at a nominal research fee of $25 per hour.  Once scanned, we will provide the PDF file and also send it to tekwiki.org.  Your research fee will help support both the vintageTEK museum and the larger community of Tektronix collectors and restorers.
Small and medium manuals can typically be scanned in just an hour (a 148 page Service manual took about an hour to scan).  Click on the image below to view a sample of a microfiche scanned PDF manual.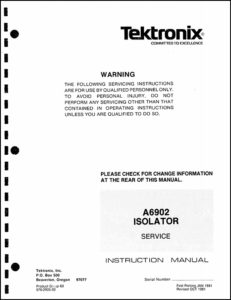 Contact the museum to see if we can help with your Instruction or Service manual needs.