Tektronix made a number of educational films which were available on loan or purchase.  This brochure describes the films available in the 1961 to 1966 time frame.  Many of them are available to view on this page.  Click on the image to view the PDF.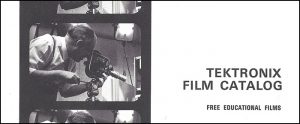 This November 1962 TekTalk features an article about Frank Hood and Tektronix films.  Click on the image to view the PDF.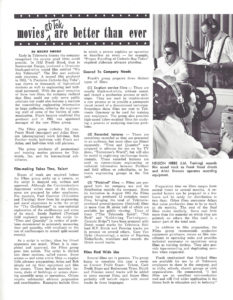 We also show many of the films and videos in this gallery continuously throughout the day on our wall mounted display behind our reception desk.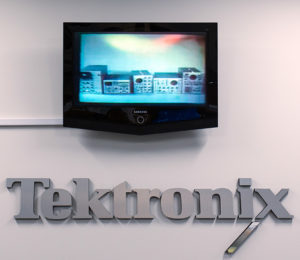 ---
vintageTEK Museum
---
Museum Video Tour
Several visitors to the museum have recorded and posted videos of their tour on YouTube
A Visit to the VintageTek Museum by youtuuba, ~60 minutes
Tektronix VintageTek Museum visit - STB59 by Shadowtron Blog, ~14 minutes
---
Tektronix
---
Howard Vollum Talks to Area Reps - 1977
New Gen: Introduction of the 7000 Series - 1969
Q1 1998 Tektronix Quarterly Report
Tektronix Nine Minute Tour - 1968
Tektronix Celebrates 50 Years - 1996
---
Cathode-Ray Tubes
---
The Cathode Ray Tube: Window To Electronics
---
Educational
---
An Introduction to Oscilloscopes and Transducers
Ceramic Strip Soldering - 1964
Circuit Boards: Design & Manufacturing - 1969
Measurement Apps using Analog Scopes by Alan Wolke
Oscilloscope Educational Sampler
Tektronix and vintageTEK - Spectrum Analyzers Then and Now
Tek & the World of Measurement - 1968
Tektronix Explains Analog Video Color - 1979
The Laboratory Scope: Time Base & Triggering - 1961
The Mixed Domain Oscilloscope by Alan Wolke
The Oscilloscope Draws a Graph
Transresistance by Nelson Hibbs
Typical Tek Circuits: Part 1 & 2 by Rodger Loop
Using Tektronix Analog Scopes by Alan Wolke
---
Products
---
2200 Family Marketing Presentation
2467B "Bright Eye (tm)" Oscilloscope
3052 Digital Spectrum Analyzer 1988
492 and 496 Portable Spectrum Analyzers
4061 Line Editor Demo - June 1981
Tektronix 11403 Digitizing Oscilloscope
Tektronix 11K Series Introduction
Tektronix On-Hold Telephone Commercials - March 1996
Testmate Product Line Presentation 
The Vectorscope: It's All About Color!
---
Sites and Locations
---
Building 55 Time Lapsed Construction
Grass Valley Group Services Sampler
Tektronix Holland NV (Heerenveen Plant)
---
General
---
Professor Tom Lee Visits vintageTEK Museum
1989 Tektronix Masters,  Vail CO
Ask Mr. Wizard: The Oscilloscope
Creating a Demo of a 1930's RCA CRT
Howard Vollum Memorial Dedication - August 14, 1987
Leading Effective Discussions - 1973
Tektronix Picnic - August 10, 1968