As we continue to work our way through our archive of photos, we run across some that are a bit out of the ordinary.  They may be humorous or unique but they stand out from the other photos. We will post new photos here monthly with the previous photos in the slideshow.
Yes, indeed, this is Jim Geddes washing a DEC minicomputer on the loading dock with a garden hose.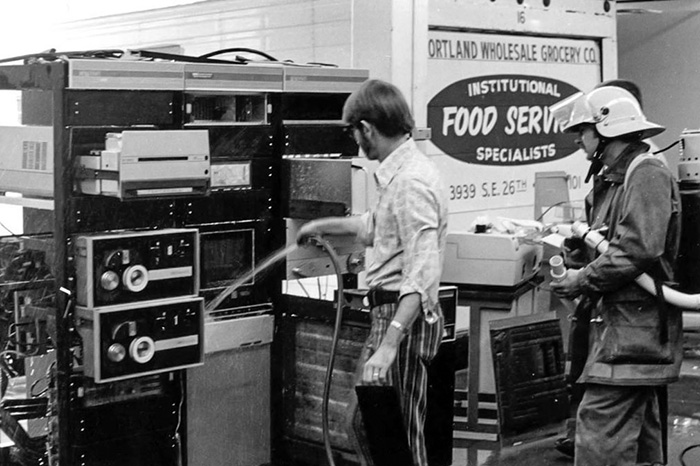 The 5000 series and TM500 engineering were located in the lower level of building 46 and above the ceiling tiles were water pipes. One of these developed a significant leak and the water completely dissolved the ceiling tiles. The leak was in the sprinkler system which brought the fire department. A mixture of water and chalky residue from the tiles drenched the DEC minicomputer. Jim Geddes, who was most familiar with the system, decided to clean it. He rolled it onto the loading dock and to the surprise of everyone took a garden hose and started rinsing the chalky material out of the rack.
After he was satisfied that it was clean enough he took all instruments out of the rack and sent them to the service department where they had a large oven that was used to dry Tektronix instruments that were sent in for service and had were similarly washed. The next step was to install all those instruments back into the rack and make it work again, which it did.
---
Previous Photos of the Month