Thank You!
We've reached our goal and will be acquiring a microfiche scanner!
We will be leaving the fundraiser open for now.  Any contributions above our goal will be directed to improving the computing, networking, and printing infrastructure to take full advantage of the scanner.  Again, thank you for your kind support of the vintageTEK museum.
See our Microfiche Scanner Fundraiser blog for more information!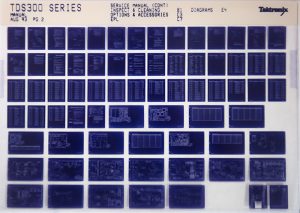 ---
---
Hundreds of visitors have toured during our regular open hours.  We also open on request for special visits, such as out of town guests and for group tours.  At our new location we have had over 30 such special tours.  Some of these focus on Tektronix history and others on technology and education.  We have held educational tours for elementary school, middle school, high school, college, and adult groups.  We have used our classroom for focused educational classes and to host other non-profit groups or societies.  We have staffed remote booths for educational opportunities and donated lab instrumentation for STEM.
All of these efforts take volunteers, time, and money.  The museum does not charge for admission, special tours, classes, or remote booths.  We operate solely on contributions and modest sales at our ebay store.
Won't you please consider a contribution to help keep the vintageTEK museum operational?
You can contribute on-line through Paypal on our How To Donate page or use your credit card while visiting the museum, or send us a check through the mail.
---
---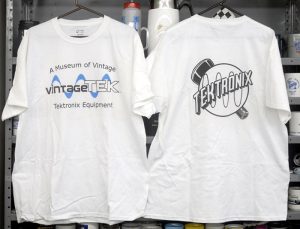 vintageTEK T-Shirts now available on our ebay store.
Buy yours today and help support the museum.
---
---
Become a museum associate!  Sign up on our registration page and receive monthly email newsletters from the museum.  These newsletters are only sent once per month and contain photos and information on what is happening at your museum.  The main topics of the newsletters are also posted as a blog.  Click here to view the latest blog.
---
---
Be sure to visit the museum on the web or in person.  We continue to enhance the web page with many new resources, exhibits, films and videos.  Some of the most recent pages added in the last month include:
---
---
The floor plan below shows the exhibit layout and there is a photo tour of the museum in the exhibits tab.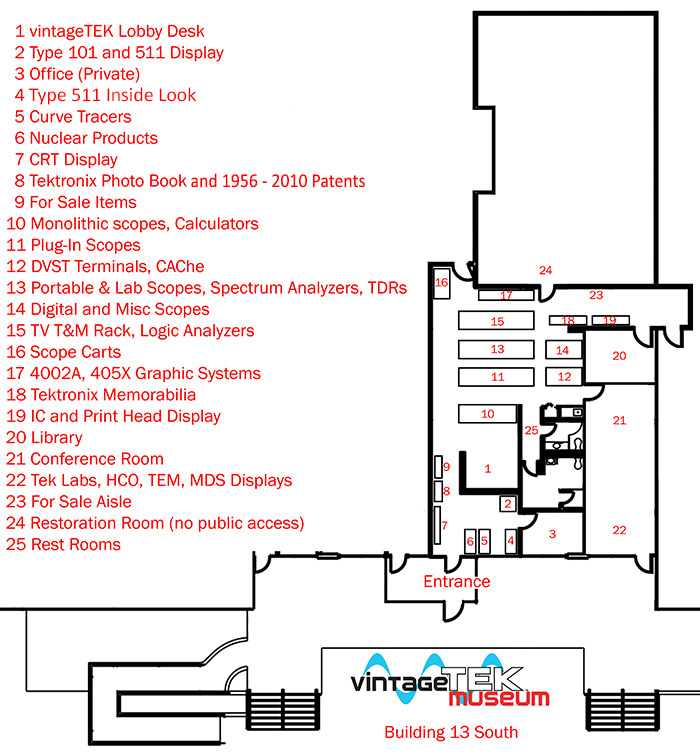 ---
Celebrating Tektronix Legacy Products
and
The People Who Made Them Successful
vintageTEK is a charitable, educational and scientific museum founded to commemorate the early history of Tektronix, Inc and its role in spawning approximately 300 high technology companies in the 'Silicon Forest' - i.e. the four county, two state metropolitan area of Portland, Oregon. Our main goal is to share our knowledge and history and to "pique the interest of young people in science and technology and to challenge them to become the technologists of the next decade".