There are several books, documents, web pages, and a video describing the early history of Tektronix.
---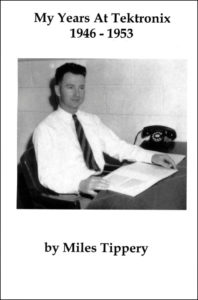 Miles Tippery was one of the four founders of Tektronix and worked only 8 years until 1953 when he had to leave due to health issues.
Miles wrote an autobiography of his life and donated a portion to the museum which we have printed as a 326 page book "My Years At Tektronix 1946-1953".
Since this book is part of his autobiography, the early history of Tektronix is interwoven along with stories of his life, building his house, and his various hobbies and interests. The Tektronix portion is a unique glimpse into the early history of the company and the founders. It contains information not included in the 40th anniversary book and is available in a soft bound book or PDF on CD on our eBay store.
---
Our page on Hawthorne Electronics describes the early days of Tektronix at this facility with photos and a May 26, 1989 issue of TekWeek which features seven employees who started at the Hawthorne site who are still at Tektronix.
---
Wireless World published an article in their September 1955 issue with an overview of Tektronix and a review of the 517 and 535 oscilloscopes. Click on the image to view the PDF.
This January 10, 1956 TekTalk article summarizes most of the Wireless World article. Click on the image to view the PDF.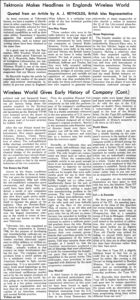 ---
The 249 page document "On The History and Environment Of Tektronix" was completed in October 1978 and contains biographies and early history of the company. The introduction explains it as "Some basic information about Tektronix history, instrument concepts, technology, and some overviews of related industries, important customers, and key competitors. This volume contains basic information about the history and environment of Tektronix. It was prepared jointly by the Management Development Department and the Marketing Information and Research Department for use in management development programs at Tektronix. The materials are intended to acquaint new middle managers with basic factors and forces that have shaped and are shaping Tektronix. They are meant to be used in a class or other discussion format. The materials reflect a Tektronix commitment both to long-range planning and to involving middle managers in discussions of the nature, values, and prospects of the firm."  Click on the image to view the PDF.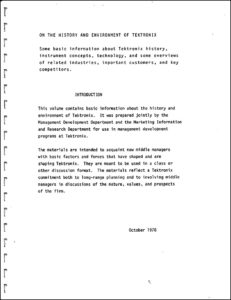 ---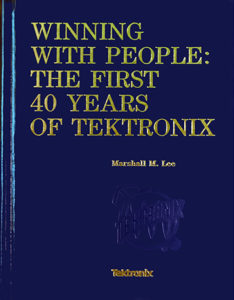 In 1986, as part of the 40th anniversary of Tektronix, Marshall Lee, a Pacific University professor, completed and published his book "Winning With People: The First 40 Years Of Tektronix".
This book really began in the spring of 1982, when Tektronix asked Marshall to take a look at all the "stuff that had accumulated over the years and which might be of some historic value."
This 329 page book is the definitive history of Tektronix. The museum sells limited copies of the original printed book or a PDF with a full index on CD on our eBay store.
---
We have several articles and documents regarding early history.
Ideas That Have Built Tektronix
---
We have pages on each of the three founders of Tektronix that provide insight into the early history of the company.
We also have pages on other early employees.
More employees can be found on our Employees page.
---
These stories written by former employees describe the early history of the company. The complete list of stories is on our Employee Stores page.
Tektronix, The Early Days, by Frank Hood
Hawthorne and Sunset 1949-1951, by Jack Day
The East Coast 1951-1954, by Jack Day
Back At The Plant 1954-1970, by Jack Day
My Early Tektronix Days, by John Kobbe
Oscilloscope Patents, by John Kobbe
Another Tek History, by Anonymous
Tek's Early Days, by Bill Webber
---
Oregon Public Broadcasting (OPB) produces a series "Oregon Experience".  In Season 4 they produced a 30 minute documentary "The Spirit of Tek". It may be watched on-line and is quite good.