The Tek Bug logo was in use by Tektronix in the 1950s.  Gale Morris described one of his projects in the late 1950's was to provide a scalable Tek Bug image that could be scaled both small and large for a variety of uses.
The museum has a Tektronix Oscilloscope Logo and Wizard Demonstration Generator Board for sale on our eBay store or at the museum.
This is a small (1.2 x 2.5 inches) circuit board with a processor and D-to-A converters that will generate patterns on an oscilloscope operating in XY mode. The patterns are the Tek Bug (with the rectangular CRT) and the Wizard, which appeared on the 454 Tektronix oscilloscope schematics. The two patterns display alternately for a few seconds each. If you are an oscilloscope collector, or enthusiast, this is a great way to show off an analog oscilloscope.  A source of 5 volts at about 20mA is required (not supplied).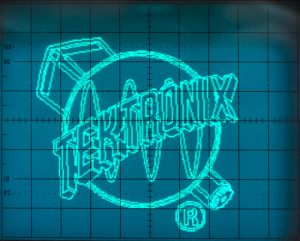 In fact, this demonstrator board looks great even on a competitor's scope as shown in this photo sent to the museum by a happy customer.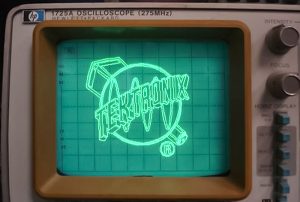 This August 4, 1963 Tek Topics newsletter features a crossword puzzle in the shape of the Tek bug.  Click on the image to open up a full size PDF file.  It's tough!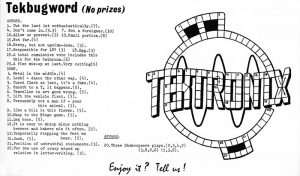 And here are the answers.
This April 7, 1967 TekWeek article describes the change to the Tek Bug logo to modernize it with a square CRT.