Warren K. Dallas, known at Tektronix as "Dal" was a native of Ohio, born in 1906.  His early interest in radio grew into a career where most all the companies he worked for were involved in either radio (called 'wireless' in the early days) or telephony. He served in the Navy in World War II maintaining radio and radar gear in North Africa and Europe. After the war Dallas followed a friend to the Pacific Northwest where he eventually became the Northwest sales representative for Neely in Portland.
Like Tektronix, Neely started business after the war as a sales and service representative for several emerging electronics companies including Hewlett Packard and Electro Scientific Industries (ESI). For fledging companies too small to support nationwide marketing, sales and field service, Neely provided a commission-based service that was precisely what was needed. Tektronix signed on with Neely in 1947 and the alliance was mutually beneficial in the early years.
While the Neely company was successful nationally, Dallas found it difficult to make a living selling electronic equipment in the Northwest. Since they shared the same building, employees, and Howard in particular, grew to know and like him. Sensing his frustration one day Howard offered Dallas a job as Tektronix first sales manager - and Dal Dallas accepted. Howard had noted Dallas' character and skill and he proved to be ideal as Tektronix' sales representative. His approach was based on honesty and technical excellence - the same traits the founders possessed in abundance.
Dallas was recognized in the first group of TEKEM employees in 1959; these were key achievers selected by Jack Murdock and Howard Vollum to purchase pre-IPO shares of stock with company provided financing. This proved to be an extremely lucrative offering.
This January 1952 TekTalk features some insight into W. K. Dallas.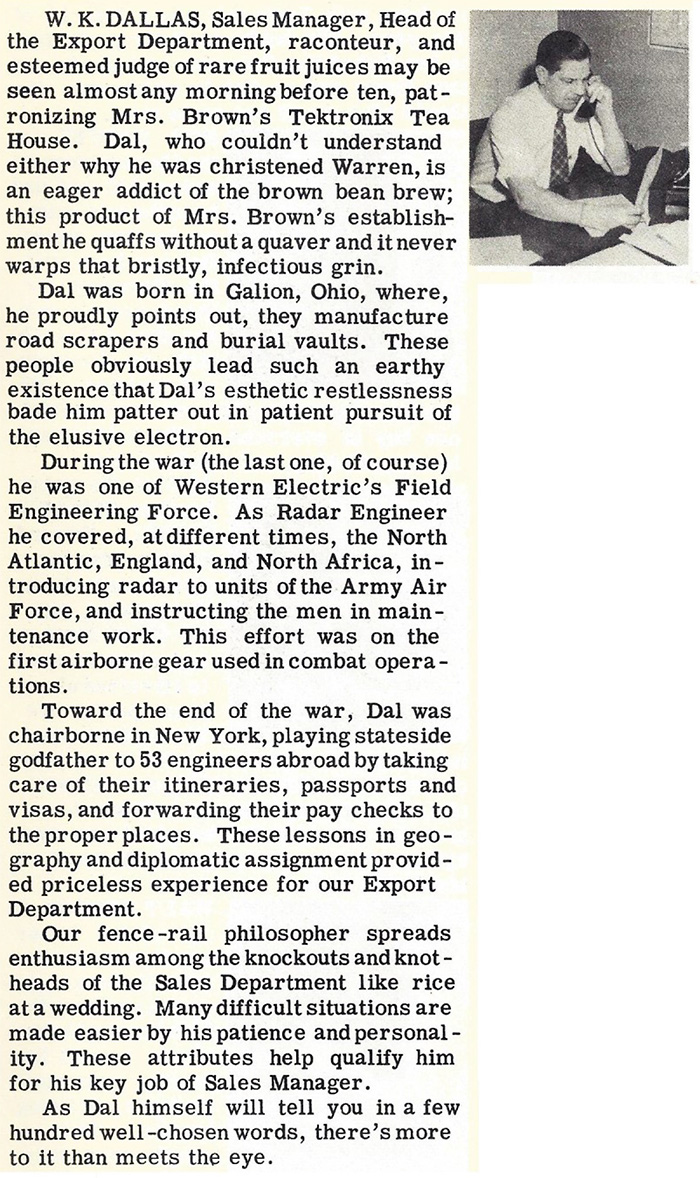 This February 10, 1956 TekTalk features Dal and his Field Office organization.