Tektronix management first thought about some type of venture in Japan in the late 1950s.  They distributed products through Midoriya but the growth was slow.  Japanese companies were copying Tektronix products and Tektronix wanted a direct presence in Japan.  By 1963 they began conversations with Hitachi and Toshiba.   While in Japan, Howard Vollum visited their customer Sony and was impressed with their chief engineer Dr. Masaru Ibuka.  Later he met the founder Akio Morita and the two struck up a friendship.  In 1964 Earl Wantland visited Sony to further discussions and in March of 1965 Tektronix and Sony struck a 50/50 partnership Sony/Tek. Sony/Tek began building products using Tektronix components and assemblies but then began to develop their own products usually focusing on miniaturization and specialization for the Japanese market.
The Sony/Tek facility was in Tokyo and in 1975 they expanded to Gotemba for manufacturing and service.  The Gotemba facility operated from 1975 to 2005 and consisted of two connected buildings.  The first building (right portion) was the original building for manufacturing and warehouse and the left portion was added in 1983 for pre-production engineering and facility offices.  The Gotemba building can be seen today on Google Maps by searching for "35.284408, 138.907316". There is also a Memories of Gotemba document on our Articles page.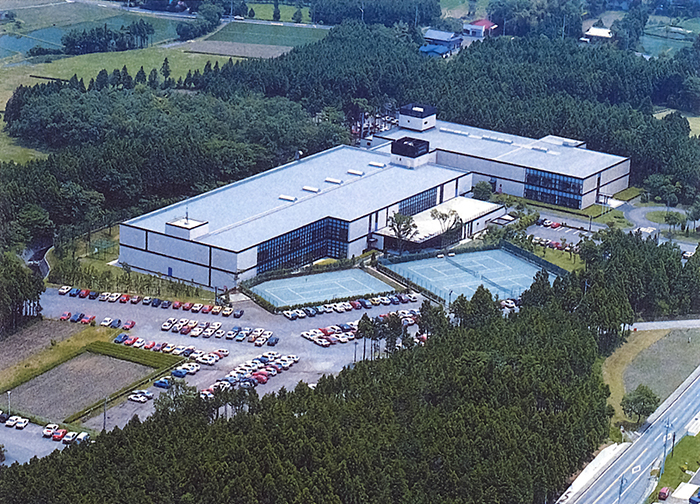 Sony/Tek continued as a 50/50 joint venture until 2002 when Tektronix fully acquired them.  Tektronix leveraged the sales and distribution arm of Sony/Tek but began to integrate the engineering function into the rest of the organization.  Technically this photo is of Tek Japan but other than the two Beaverton folk is the same organization in the same building doing the same work as when they were part of Sony/Tek.
Sony/Tek had developed core competencies in spectrum analyzer and waveform synthesis technologies and eventually these were brought back to the Beaverton campus and engineering in Shinagawa were shut down.
If you have information to share on Sony/Tektronix please contact the museum.